Mowing
Mowing is what we spend most of our time doing and what we excel at. Whether you have a small townhouse yard, commercial property, or large country lot, we can handle it with ease. Just be sure to let us know of any mowing preferences you have (direction of cut, grass height, etc) and we'll get it done the way you want. If you want your grass cut to a particular height, just let us know and we'll adjust the mower deck height to accommodate your request.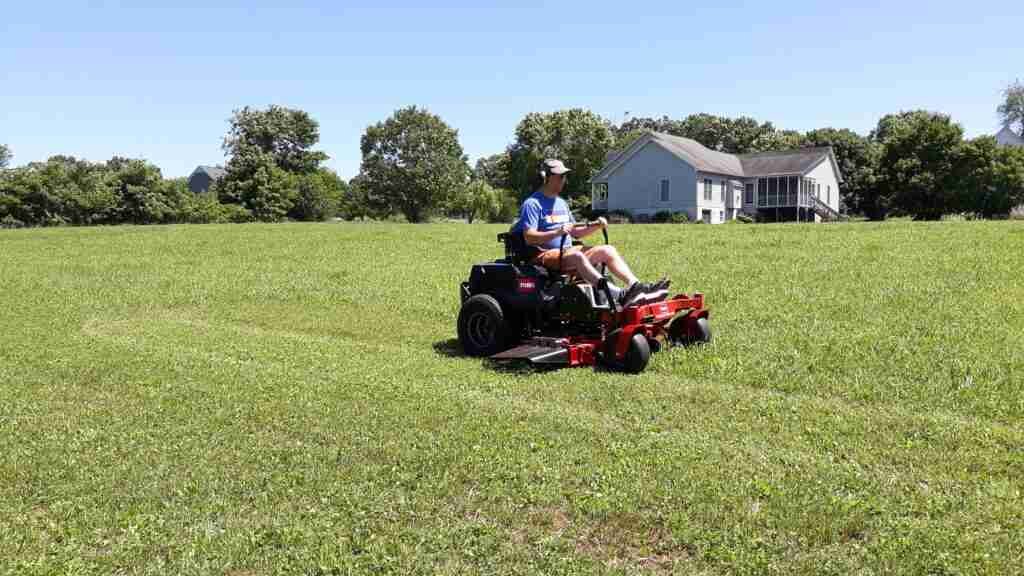 We keep our equipment in top shape so as to give you your grass a neat, clean cut. Our mowers are commercial grade and always well-maintained. We use Toro mowers ranging from 21″ push mowers (for small properties) up to large zero-turn riding mowers (for larger properties).
String Trimming (Weed Eating)
When done properly there's nothing that makes a lawn look better than edge trimming. It really gives your lawn a neat and clean appearance. We trim down unsightly weeds wherever they grow – such as cracks in driveways and patios.
Scheduling
At Mowing Magic, we want do whatever is necessary to keep our customers happy. As such, we don't lock you into any mowing schedule. We'll work with you to determine a mowing schedule that meets your needs, and we are happy to adjust the schedule (at your request) to account for rainfall and seasonal changes. Most customers prefer a mowing schedule of every 10 days, but some want twice a month or just a single cut at the beginning of the season. You can also skip a mowing here or there in the summer if you'd like. This is fine, and we also have some customers who just call when they'd like their lawn mowed. And if you prefer a certain day of the week you like the lawn cut, we'll do our best to make it happen.
Pricing
We do our best to keep mowing prices reasonable. If we are higher than a competitor, let us know and we'll see if we can match their pricing. The below table will give you an idea of our 2019 pricing. But we do like to take a look at your lawn before making a final pricing determination. Also, these prices are for regularly service every 10 days. We'll probably ask for a higher price if the lawn is allowed to get tall or mowed less frequently.
| Property Size | Cost to Mow, Trim, & Edge |
| --- | --- |
| Up to 8000 sq feet | $45 |
| 1-2 Acres | $55 per acre |
| Larger than 2 Acres | $45 per acre |
| One-Time Jobs | $55 per man-hour |
Additional Lawn Care
If you want your lawn to look its absolute best, beyond mowing and trimming, you'll need a comprehensive lawn treatment plant to keep weeds at bay and fertilize your grass. You can go the DIY lawn care route and save some money, or you can hire a lawn care treatment service to take care of it for you. Either way giving your lawn the nutrients it needs, when it needs them, will keep your yard looking happy and healthy.